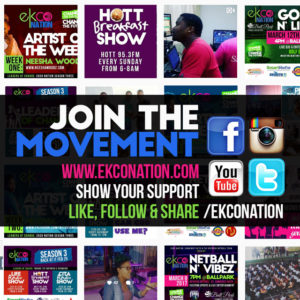 The Many Things We Do
EKCO Nation is more than just an event or season of shows; it is a movement spanning several frontiers that engage music, media, entertainment, education and more. 
To reach our youth and other target audiences with the mission to "Change the Culture, Change the Future", we incorporate several mediums and activities; as well as formulate strategic partnerships with several entities to achieve our goals.
REACH – ENGAGE – IMPACT
Radio Shows
Seasonal Weekly Radio Shows featuring Live DJ mixes, Hot discussion, interviews with your favourite personalities, featured artistes, Remixes and more
Events
Wholesome family entertainment,live Djs, live music featuring your favourite artistes, open mic, golf, food, drinks and more
Media
Music, Videos, Podcasts, Photos featuring interviews, personal stories, performances and other EKCO Nation activities
Internet
Social Media engagement; interactive and dynamic website featuring local artistes and personality features, media, discussions, news and more
Other Activities & Initiatives
EKCO Wise
Educational Programme and software to help parents understand and monitor trends and threats children may be exposed to on their smart devices.
Seminars
Conduct and Partner with various Organizations and Professionals to facilitate training seminars, workshops and conferences that equips our stakeholders and compliment our mission.
Outreach
Initiatives targeting Schools, Communities and other institutions to share the Gospel and build awareness about the Movement.
Campaigns
Media Campaigns designed to deliver strategic messages or encourage behavioural change.