Your Saturdays just went to a Whole New Level!!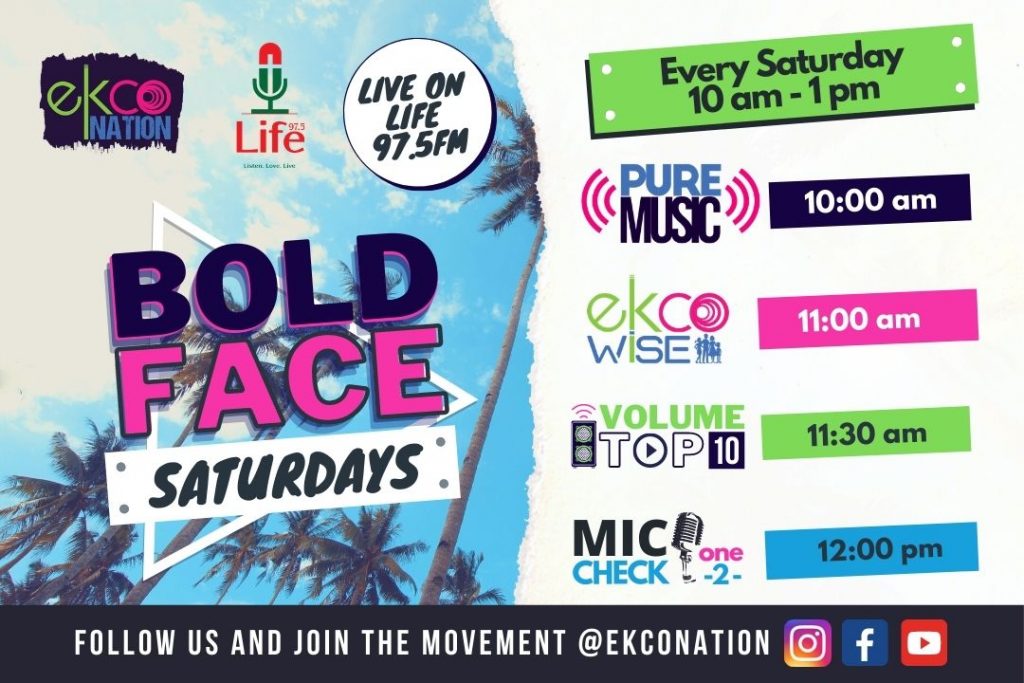 EKCO Nation is launching a new Radio and Online Campaign designed to reach Youth and Parents about issues concerning social media addiction, Internet safety and the influence of Music on youth development and behaviour. 
EKCO Nation "Bold Face Saturdays" radio campaign, in partnership with LIFE 97.5 FM, will air from 10 am to 1 pm every Saturday from June 5th, 2021 to July 24th 2021 in our first season. The show seeks to be:
Dynamic & Exciting – in providing positive music and discussion that engages youth.
Educational – in helping youth and parents navigate challenges in a digital world.
Uplifting – in providing wholesome music alternatives and tools to address these challenges.
The campaign consists of four exciting and dynamic radio shows.
PURE MUSIC HOUR: A one hour music show promoting positive vibes. Music will be also presented that speak to various youth issues e.g. violence, social media addiction etc.
EKCO WISE: An half-hour talk show that educates youth and parents on the power of music, social media addiction and Internet safety on youth  development and behaviour.
DE VOLUME TOP 10: A top ten music countdown of positive music hits across all genres including soca, reggae, hiphop, dancehall and more that are selected by and recommended to our youth.
MIC CHECK One-2: A radio show featuring Christian music artistes and getting to know them and the messages behind their music.
OUR PARTNERS
EKCO Nation appreciates the financial support of partnering organizations of our radio campaign. 
Starcom Networks and LIFE 97.5 FM
ARK Online Enterprises COrporation
De Island Corn
Nature Isle Landscapes